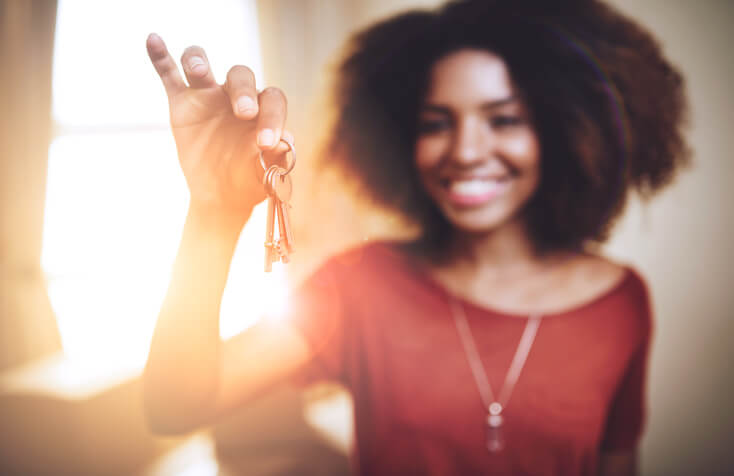 ---
Those who've been locked out of their homes or apartments know the experience is never worth repeating.
First off, there are financial costs.
Hiring a locksmith is expensive. But if you think being a renter and having a maintenance staff on-call eliminates that expense, it doesn't. Most landlords at student housing near Penn State charge fees for letting tenants back into locked apartments and replacing keys. While the landlord covers routine repairs and property updates, the maintenance staff's time and labor to unlock a door (not to mention the cost of replacing a key, if you lost yours) are extraneous costs.
Money matters aside, there are also feelings of anxiety that can creep up when you're locked out of your home. What if you have a midterm the next day, for instance. Could you spare several hours of lost study time because your notes are locked inside? Say nothing for the unpleasantness associated with standing outside in the elements. (If you've experienced a State College winter, then you know they're cold.)
So rather than having to act like a barbarian storming the gates of your own home, the best way to mitigate the inconveniences of being locked out is not to let the situation happen in the first place. You might be thinking: "That's easy. I just won't forget my keys." And if you can be vigilant enough to do that, then more power to you. However, there's always a chance you'll leave for class half-asleep one time, especially after a late night of studying, and space out about taking your keys.
All it takes is that one slip up to create an I'm-locked-out-of-my-house fiasco.
That's why The Station State College offers five suggestions intended for students in our apartments near PSU, but as long as you have a home and a set of keys, they'll apply to you.
1. Set A "Grab Your Keys" Reminder In Your Phone Or Smart Speaker
Whether you tell Siri, Google Assistant, Alexa, or another robotic assistant, setting a daily "grab your keys" reminder on your phone or smart speaker will help you always remember to take the keys with you.
The time when you leave the house from one day to the next may differ based on your class schedule, though. So it's best to set a reminder in the morning, and then keep the keys on your person for the rest of the day.
2. Keep Track Of Your Keys In The Apartment
Remembering to take your keys with you is just the first step. Next, you need to know where to find them. If you're an organized person, this shouldn't be too difficult of a task: just leave them in the same spot every day. A great spot is on a hook or table near the front door where it's virtually impossible to overlook them. But if you're worried about someone grabbing your keys by mistake, you can put them in a cup or organizer on the desk or bedside table in your bedroom.
If you don't have a handy spot near the front door, that's OK. Bluetooth is a ubiquitous technology that you probably use already to stream music on a wireless speaker, headphones, or in the car. It can also be the answer to your key-related drama. Bluetooth tiles are small, square chips that clip to a keychain and can instantly tell you (as long as you're within range) the key's location from your phone. Most retailers sell the tiles in four-packs for a better price. Perhaps you can split the cost of a package with your roommates.
3. Put Your Keys In A Safe Place While Outside
One way that students in off campus housing near PSU get locked of their apartments is by setting down their keys while using community amenities and then forgetting or losing them.
Whether you're using amenities or heading to class, there are a few ways to keep keys safe when you leave the house.
As long as your outfit has pockets, you can put the keys in a waterproof ziplock bag and keep them on you while you use workout equipment or the pool. Another option is to give the keys to a friend who can keep them safe in a backpack or purse. And if you drove someplace with a friend, you can even leave your keys in his or her car for temporary safekeeping.
4. Have Your Roommates' Phone Numbers Handy
Despite taking steps not to get locked out of your apartment, let's say it does happen. What can you do then?
The best solution is to get assistance from your roommates. Floor plans for off campus housing near Penn State may have up to five rooms (and up to four roommates, each of whom will have a key).
When you move in at the start of the semester, program all your roommates' phone numbers into your phone so you can call them for help in case you are locked out. It's also helpful to know your neighbors. They can't let you back into your place when you get locked out, but they can offer you a comfy place to hang out until your roommates show up with their keys.
5. Keep The Maintenance Staff In Your Contacts List
General maintenance requests are made through the online resident portal and answered promptly by the staff. For urgent requests, tenants can call a phone number to speak with the staff directly. Does being locked out of your apartment constitute an emergency? It depends on the situation.
As long as you have roommates, you have resources to get you back inside when you forget or lose your keys. If you live alone, or your roommates are out of town for holiday or spring break, then being locked out is definitely an emergency. You have the option to call a locksmith, but the service will be cheaper and likely quicker from the maintenance staff.
As a resident of our student apartments in State College, you can always contact The Station for assistance with lock-outs or lost keys. Meanwhile, if you're a prospective resident looking for an off campus residence for the upcoming school year, we invite you to schedule a tour to learn what student life is like at The Station State College!