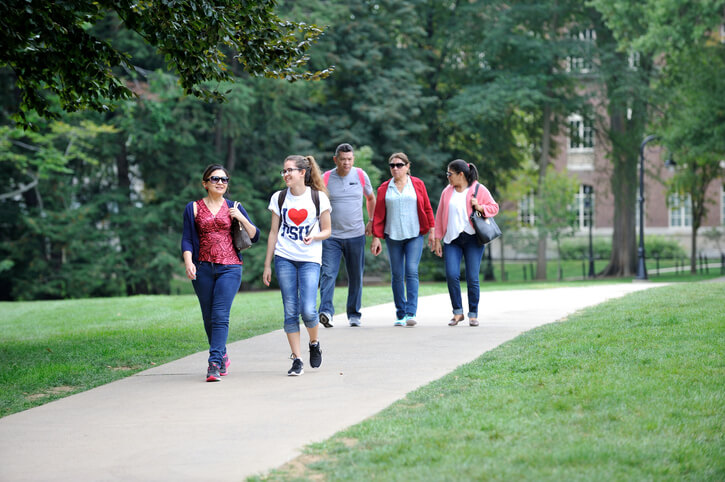 ---
After moving out of the dorms, most students favor off campus housing near PSU and many of the area's best attractions. Now that you're a resident, it's time to discover some of the best places to eat, shop, and have fun near your home in State College.
Where to Eat
While living in off campus apartments Penn State students need only walk a few minutes from where they live to find options for dining out. As a new resident of State College, though, you might be interested in eating at some of the iconic and most popular restaurants for PSU students.
Original Waffle Shop
A destination for breakfast and lunch 365 days a year, Original Waffle Shop was started in 1966 and has been a popular restaurant for residents of State College ever since.
Otto's Pub & Brewery
Otto's Pub & Brewery is a hot location for lunch and dinner. Offering a variety of American food options and a lively atmosphere, this location has been frequented by students since 2002.
Rey Azteca
Rey Azteca is the first restaurant many State College locals turn to when they want authentic Mexican cuisine in a vibrant and comfortable setting.
Faccia Luna Pizzeria
Faccia Luna Pizzeria is the go-to place for Italian food. Featuring wood-fired pizzas and a selection of pastas and sandwiches, this restaurant is popular all nights of the week.
Where to Shop
As more students move off campus Penn State apartments are filling up, but housing that's located near shopping areas is particularly coveted by students who want to easily shop for groceries and other goods they need. While living in State College, there are a few shopping destinations that many students frequent.
Target
As a retail store, Target hardly needs an introduction, as students know to come here to purchase everything from homegoods and groceries to electronics and clothing. Target is also known for having good deals on essential items students need for class, such as pens and notebooks. Also convenient is that many residents in student housing live close enough to walk to a nearby Target store.
Nittany Mall
Located just a few minutes from the university is Nittany Mall, an indoor shopping center featuring more than 75 stores where students can shop for everything from clothes to video games. As the region's only shopping mall, Nittany Mall is also a popular place for PSU students to meet and socialize.
Recreation
In the areas near Penn State off campus housing can feature amenities, such as a fitness center, swimming pool, or golf simulator, which allow students to live active lifestyles in their own communities. But when you feel like going out to a nearby recreational area, State College has places for you to consider.
The Arboretum at Penn State
When students are looking for a scenic location to walk and get exercise, The Arboretum at Penn State is a popular choice. One appeal of the The Arboretum at Penn State is that it features a variety of plant life and introduces residents to the science of nature. Meanwhile, students who are interested in nature photography also frequent The Arboretum at Penn State.
Bryce Jordan Center
Bryce Jordan Center is an arena with more than 15,000 seats where PSU students often go for various types of entertainment. From Nittany Lion men's and women's basketball games to lectures and concerts, Bryce Jordan Center features an assortment of events that students can attend.
Off Campus Housing near Penn State
The Station State College is a student housing community that offers residents an exceptional living experience near PSU. Our cottage-style townhomes are fully furnished with modern décor, including comfortable furniture, stainless steel appliances, and efficient washer and dryer units; and we also offer non-furnished townhomes. As for our housing community, residents enjoy access to a variety of amenities, including fitness center facilities, a resort-style swimming pool, and a game lounge. Meanwhile, given our location near PSU, students have an easy commute to campus as well as other nearby places of interest in State College. Contact us to schedule a tour of The Station State College!