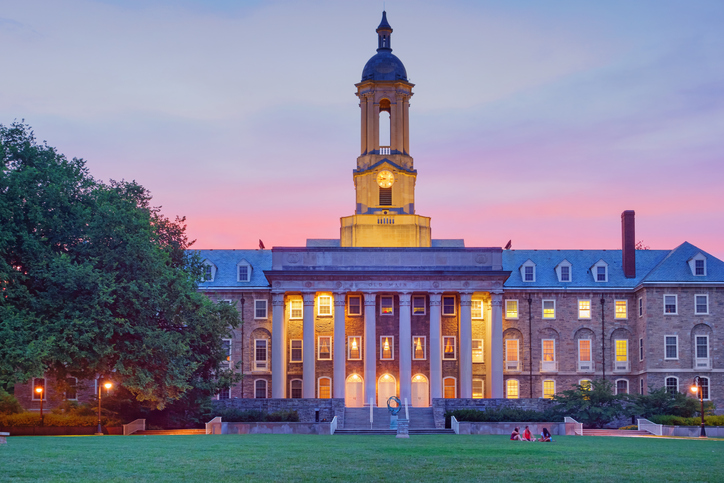 ---
Few events in life are more exciting than moving to a new city, especially when it's State College. The first step in relocation is to search for off campus housing PSU students recommend so you can find an apartment that meets your needs. In the meantime, it's also useful to become familiar with the best retail, entertainment, and recreation spots located near your apartment and throughout the city.
Hot Spots at Penn State
After settling into their apartments, students usually like to take a tour of the university. Aside from finding out where your classes will be, use this initial visit to discover the campus' hot spots. To learn of upcoming activities on campus, you can review the Penn State Events Calendar.
The Hetzel Union Building (The HUB)
At Penn State, the central building where students gather to study and socialize is The Hetzel Union Building (The HUB), which also features a radio station.
The Arboretum at Penn State
Between classes or on the weekends, The Arboretum at Penn State is an ideal place to take a quiet walk through a scenic landscape of waterfalls and vegetation.
The Lion Shrine
There's no better backdrop for a selfie than The Lion Shrine, a statue honoring Penn State's mascot, the Nittany Lion.
The Berkey Creamery
The Berkey Creamery is a local culinary institution that has been serving homemade ice cream in State College for more than 100 years.
Live Sports
The Nittany Lions are a powerhouse in men's and women's college athletics, and one of the benefits of living in off campus Penn State housing is you can walk or bike to several local sports venues. Because the residents of Happy Valley have no shortage of enthusiasm for college sports, consider reserving seats in advance through the PSU Ticket Center.
Beaver Stadium
Beaver Stadium is where the Nittany Lions football team plays and a "white out" occurs at every Saturday home game during the college football season.
Pegula Ice Arena
In addition to the main rink where the Penn State varsity hockey team plays, Pegula Ice Arena has a community rink that serves as the center for skating in State College.
Medlar Field at Lubrano Park
To watch the Nittany Lions baseball team play, students head over to Medlar Field at Lubrano Park.
The Arts
Penn State off campus housing is a great place to meet friends with whom to explore the artistic side of State College. From live music to modern paintings, the arts are well represented in venues throughout the city.
The State Theatre
The State Theatre is a nonprofit community theater that hosts live musical performances, plays, and cinema presentations.
Palmer Museum of Art
With more than 8,200 objects, the Palmer Museum of Art is a prominent venue for observing classical and modern art.
Bryce Jordan Center
The only entertainment facility of its kind in State College, Bryce Jordan Center hosts a variety of acts, from professional comedians to touring musicians.
Outdoor Recreation
Although your apartment community may have a fitness center, you can complement your workouts by venturing to nearby recreational areas. Besides promoting exercise, the parks and natural settings around State College are idyllic places to enjoy fresh air and observe nature.
Stone Valley Recreation Area
From daytime hikes to overnight camping trips, Stone Valley Recreation Area is a popular destination where State College residents go to experience nature.
Millbrook Marsh Nature Center
Favored by residents as a place for walking, Millbrook Marsh Nature Center features trails and boardwalks that traverse 50 acres of protected wetlands full of wildlife.
Tom Tudek Memorial Park
Tom Tudek Memorial Park has basketball and tennis courts as well as a dog-friendly area where visitors walk their pets.
Shopping
Identifying nearby stores can make settling into a new city significantly easier. Knowing where to shop for groceries, toiletries, clothes, and other essential supplies, you can finish moving into your apartment quickly and turn your focus to school and fun.
H&M
H&M is a chain retailer that sells affordable clothing, swimwear, accessories, and shoes of modern designs.
Target
The Target in State College is a popular place where students shop for groceries, electronics, furniture, and home goods.
Harpers
A local institution for formal wear, Harpers has been tailoring men's and women's suits and tuxedos since 1926.
Penn State Bookstore
The Penn State Bookstore, which operates in partnership with Barnes & Noble College, sells textbooks and assorted school supplies.
McLanahan'S
To show their school spirit, State College residents head to McLanahan's Penn State Room for all kinds of Penn State merchandise, from sports attire for game days to blue and white kitchenware for their apartments.
Off Campus Student Housing near PSU
The Station State College rents off campus apartments Penn State students choose for their ideal location, spacious floor plans and world-class amenities. In addition to a short commute to campus, our location puts residents conveniently close to many of the best attractions in State College. Moreover, with a game lounge, pool, fire pit, fitness center and other luxury amenities, The Station is an attraction itself. Apartments are fully furnished with high-speed internet, cable TV, and most utilities included in rent. We offer affordable, individual leases and roommate-matching services. To learn more about The Station, contact us today!