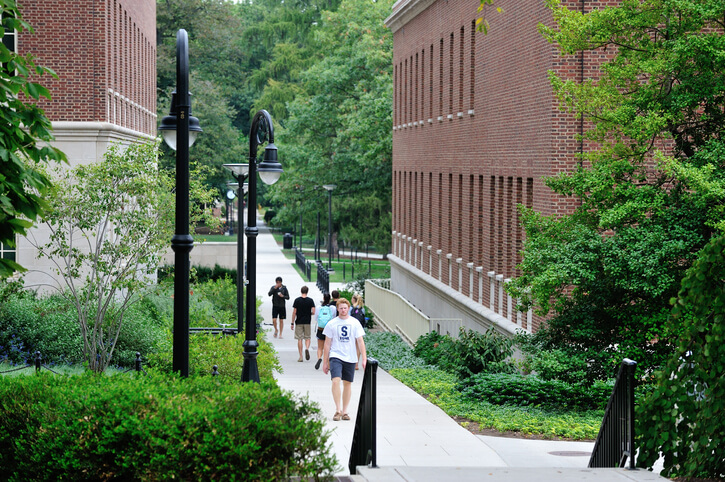 ---
If you aren't very picky, or perhaps you're extremely lucky, you might find the perfect apartment on the first walk-through. But for the majority of renters, finding the right apartment requires a thoughtful approach with planning and perseverance. There are at least three steps to finding off campus housing PSU we recommend students follow when hunting for an apartment.
Set a Budget for Penn State Apartments
For students at Penn State, off campus apartments are coveted, but if you haven't lived off campus before, you may not realize that you'll need to set a budget. Setting a budget for monthly installment payments is a fiscally responsible way to begin a search for housing. Based on the recommendations of budget experts, monthly housing payments should equate to no greater than 30 percent of a person's income. Two options available to students looking for affordable housing are a co-signer and an individual housing contract. A co-signer is typically a parent or relative who guarantees the monthly payments, and landlords are apt to rent to students with low incomes who also have qualifying co-signers. Individual housing contracts, on the other hand, are a means by which a student secures the apartment "by the bed" and pays a portion of the monthly installment for a whole apartment.
Ways to Offset Expenses
Students can afford to pay slightly higher monthly payments for off campus apartments near Penn State when the apartments have features to offset expenses.
Furnishings
Furnished apartments eliminate a renter's need to pay for furniture or cable and Internet services. In all apartments, meanwhile, appliances can reduce expenses. Washer and dryer units operate at a lower cost than a laundromat. And the use of a refrigerator to store ingredients and a stove to cook produces less expensive meals than dining out.
Amenities
Amenities-driven housing is trending in college towns, including State College, and for good reason, because community amenities save money for students. A free golf simulator takes the place of paying to play 18-holes at the golf course, and a free fitness facility is certainly just as effective, though not nearly as expensive, as a membership to a private gym.
Time of Year
Which time of the year you choose to look for housing impacts the results you'll find. The availability of student apartments near PSU is seasonal and based on the semesters of the academic year. So, the closer to the start the school semester you begin to look for housing, the fewer available apartments there will be. Searching for an apartment near a semester's end (when a significant portion of tenants are moving out) often produces more results. Of course, the reality is that student apartments, especially units that are furnished or have on-site amenities, are coveted by a range of renters looking to live off campus, so it's best to start applying and touring apartments as soon as you can.
Visit In-Person
More than likely the Internet was your gateway to discovering options for housing. Perhaps you began with an apartment-search app or website and proceeded to filter the results according to your preferred apartment criteria, from location to monthly payment price. Once you've accumulated a short-list of options for off campus student housing, it's time to contact the leasing office for each apartment to schedule a tour. Bring along for the tour any roommates you plan to live with, so everyone has a point of reference to discuss the merits of the apartment. Or if you have no roommates lined up, ask the leasing agent during the tour about roommate matching.
The Station State College meets the criteria most Penn State students use in searching for dream apartments. We offer apartments and townhomes with anywhere from one to five beds, and many of our units are fully furnished, including contemporary-style furniture, smart TVs, and high-speed Internet. Contact us to learn more about off campus student life in State College!