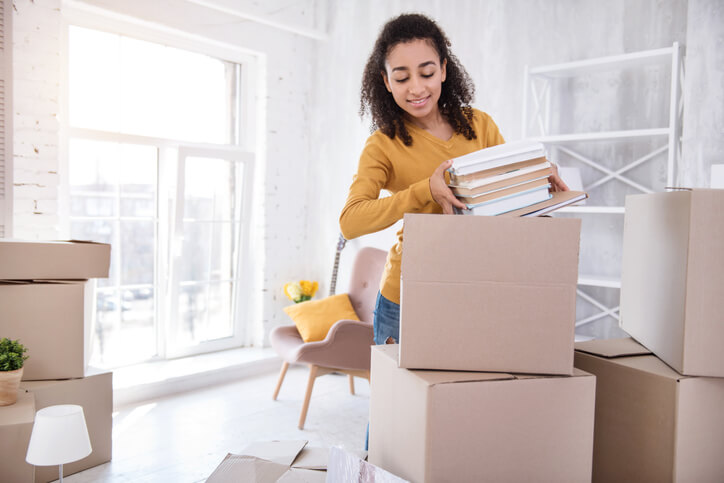 ---
It's common for students to change their residences at least once during college. Whether they're newly enrolled in school or vacating the dorms, those moving into off campus apartments near Penn State are setting themselves up for rewarding adventures. Of course, moving is an adventurous undertaking. Yet whether the process of relocating to an apartment is memorable or miserable often comes down to the student's level of preparedness. To make your move a success, The Station State College offers these moving tips.
How To Move Into A Student Apartment
In moving to off campus housing PSU students each have unique experiences. One person's move may involve transporting a truckload of furniture cross-country. Another may just walk down the road from the dorms to new address. No matter the circumstances of the move, the same checklist applies.
Hire Movers (If Necessary)
A professional moving company takes care of your relocation from start to finish. Movers will arrive at your residence on a specified day, load the boxes into a moving truck, and unload everything at your new apartment. There are also movers who specialize in student moves. Yet the one potential problem with hiring movers pertains not to the movers' performance but rather their availability. Because students follow the same schedule based on the school year, most move out shortly after the semesters end. Consequently, movers may have a full schedule even before you hire them. A good rule to remember is to hire movers at least 30 days in advance of your move.
Do-It-Yourself (DIY) Move
Students moving into off campus housing usually prefer a DIY approach to relocations. Many are moving into apartments with furniture already provided, so the amount of items they have to bring would typically fit into the back seat and trunk of a car. Still, there are some items you'll want to nab and some steps you'll want to take during your move.
Gather Moving Supplies
Accumulating the proper supplies is the first step in moving. Although you're not hiring movers, you can nonetheless visit a local moving company to obtain packing supplies, such as cardboard boxes, clear tape, and packaging peanuts. For a less expensive and more environmentally friendly move, replace moving boxes with items you own, such as suitcases, plastic bins and crates. You can then store the suitcases in the walk-in closet in your new apartment to use again during a future trip or move.
Pack Your Belongings
The fundamentals of packing are to conserving space in moving boxes while also ensuring the integrity of your possessions during transport. Don't pack boxes half-full. Instead, pack your largest items first and then fill in the open spaces with smaller items. To avoid damage, don't pack heavy items with fragile ones. You should also stay organized by packing together items from the same rooms and labeling all boxes. You can also prevent messes by using resealable plastic bags to pack bathroom toiletries or cleaning liquids in case of leaks.
Organize While Unloading
Upon arriving where you'll be living, check around for a parking space near your apartment to shorten the distance you must carry boxes. Also, before unloading boxes by yourself, check if roommates are available to assist. And once all the boxes are unloaded into the right rooms, begin unpacking immediately in order to double check your possessions all arrived intact.
The Station State College is a student housing community that makes moving easy. We offer one-bedroom apartments up to five-bedroom townhomes, including furnished units that include modern furniture, smart TVs, as well as cable and Internet services. We also have a selection of community amenities and invidual rental contracts. Contact us to learn more!