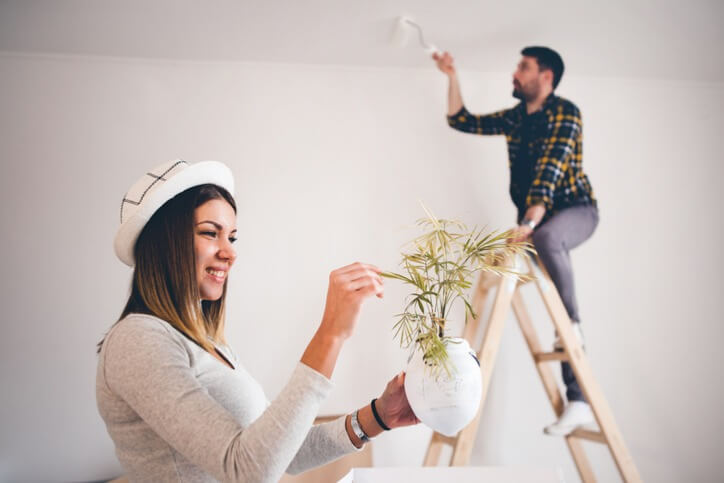 ---
Moving into Penn State off campus housing grants Nittany Lions the independence to live how they want. With our spacious student apartments and a plethora of community amenities, it's easier than ever for students to make their apartments feel like home by adding personal touches. Decorating your space doesn't have to be a hassle. We offer multiple floor plans so residents can spruce up every nook and cranny of their home without limitations. Consider these five decorating tips from The Station State College to transform your apartment into a home. Contact us today to schedule a tour!
Wall Art
No one likes looking at barren, white walls; add vibrancy to each room with simple wall art or, if your community allows it, a fresh coat of paint on the walls. Our PSU apartments offer plenty of wall space for residents to add their own flair whether it be an elegant wall tapestry, a unique painting, or fairy string lights. When hanging wall art and other wall decorations, utilize Command™ strips and hooks to prevent damaging the walls and to avoid losing your security deposit.
Bookshelves
Make the most of every corner in your apartment near PSU with bookshelves and organizers. If you're a bibliophile, use standing and hanging bookshelves to show off your impressive collection and give the place a sophisticated look. Each apartment is outfitted with ample storage space and other luxurious features, but for residents eager to fill every space with knickknacks, organizers are ideal. Residents can also personalize shelves by adding string lights or photos.
Rugs
College apartments often feature more than a few stains — just the typical wear and tear of student living. Instead of spending precious time trying to remediate unavoidable stains, roll out a floor rug to quickly decorate the space on a budget. Decorative apartment rugs come in a multitude of colors, shapes, and sizes so it's easy for residents to find one fit for their lifestyle. Small throw rugs are suitable for high-traffic areas, such as entryways, the kitchen, and the bathroom, while large floor rugs are better suited to open spaces, such as the living room.
Houseplants
Indoor houseplants are a simple, yet elegant touch for any Penn State apartment. There are many different types of low-maintenance plants perfect for every resident's schedule, whether they work all day or spend their time lounging in the cottage. Plants add a modern and relaxed atmosphere, and some, such as the snake plant, can even purify indoor air. Other easy indoor plants include the spider plant, peace lily, cast iron plant, pothos plant, and ZZ plant.
Bedding & Cushions
The bedroom is the space Penn State University students can truly call their own. It's where they go to relax and unwind after a stressful day of classes or work. Make sure the room is as welcoming as possible with soft sheets, comfy cushions and pillows, plush blankets, and a cozy carpet — the ultimate goals of your bedroom include helping you get a good night's sleep and providing you with a platform for interior design that's tailored to your preferences.