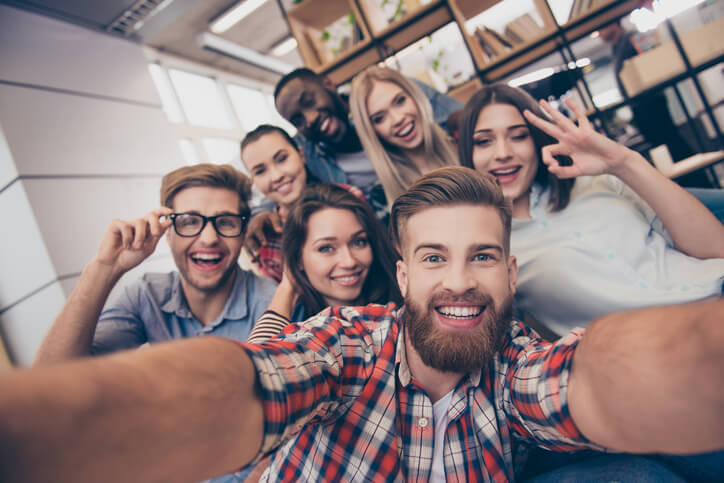 ---
By moving to off campus housing PSU students encounter new opportunities, one of the best being the chance to make friends. Since residents of student apartment communities are all your peers, you're likely to come across like-minded people in the course of doing everyday activities, from walking to class to getting the mail. On the other hand, you can also be proactive about meeting new people by taking advantage of the benefits student housing has to offer.
Amenities for Groups
As a result of more residents moving off campus apartments Penn State students want to live in have become available. Unlike traditional housing, these new apartments are in amenities-driven communities that are designed to support students' lifestyles. The amenities in these communities are also often suited to group activities. So, as the first step in making friends, you should use the amenities available to you. More than allowing you to relax and have fun outside of class, a swimming pool, sand volleyball court, or game lounge is also a means for you to interact with students who have similar interests or hobbies as yours.
Off Campus Activities
Given the variety of places for shopping, dining, and entertainment off campus Penn State housing is often located within walking distance to places where students congregate. While shopping at the local Target for school supplies or H&M for clothes, for example, you're likely to bump into other students with whom you can strike up conversations. It can also be less intimidating to speak with new people when you and them are already in groups. So, by going out to do activities with your roommates or current friends, you can encounter other groups of potential new friends.
Host Guests in the Apartment
In contrast to the studio-style rooms in dorm buildings at Penn State off campus housing can have apartments with private bedrooms and living rooms that are spacious enough to host guests. When students come over to your apartment for a party, to play video games, or to watch a movie, you can entertain everyone in the living room, while your personal belongings can remain secure and orderly in the bedroom. At the same time, private bedrooms allow your roommates to have personal space, just in case they don't wish to join in whatever social activities you're hosting in the apartment.
Roommate Matching Services
Roommates are some of the first friends students can make in college. In traditional apartments, students need to have roommates arranged before signing the lease, but student apartments have individual leases, where each tenant signs a lease for one bedroom. To fill remaining bedrooms, landlords then use roommate matching services, where you complete a questionnaire of your lifestyle preferences, and the landlord matches you with compatible roommates. And since student apartments can have up to five bedrooms, roommate matching services are one way to make friends as soon as you move off campus.
Off Campus Housing near PSU
The Station State College is an amenities-driven housing community that caters to the lifestyles of students. Our cottage-style townhomes are available fully furnished with modern furniture, high-speed internet, and cable TV, so students can move in and be comfortable right away. Then there are the amenities in our community, which include quiet study rooms, a state-of-the-art fitness center, and a resort-style swimming pool. The Station State College is also located close enough to PSU that students can walk to campus as well as nearby shopping, dining, and entertainment attractions. Contact us to schedule a tour of The Station State College!